Første gang jeg så William Wylers klassiske dokumentar om bombeflyet Memphis Belles sidste mission over det besatte Europa, slog det mig straks, hvor velskrevet historien er og hvor effektivt filmens propaganda bliver leveret. Med andre ord lavede jeg nærmest en spontan vurdering af teksten i forhold til den retoriske situation.
Den del af fortællingen, som især triggede mig, er spændingsopbygningen til bombetogtet mod ubådsbasen i Wilhelmshaven. Fortællerens voice-over er en ren tour de force af retoriske virkemidler og perfekt til arbejdet med retorisk analyse i engelskundervisningen.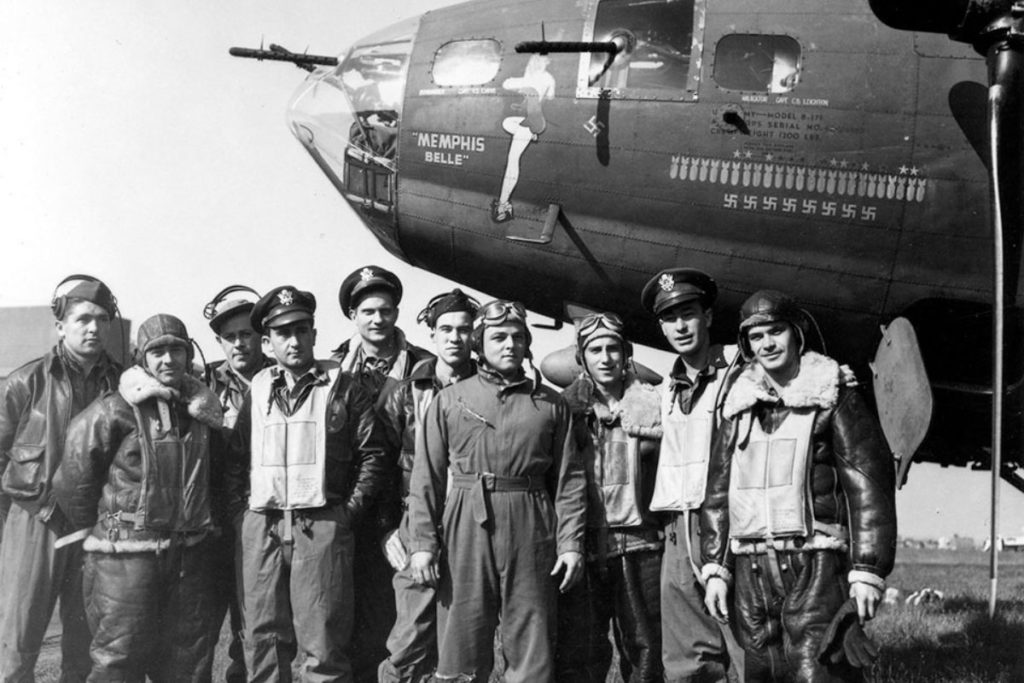 Jeg har transkriberet et uddrag af dokumentarens voice-over og lavet en liste af retoriske virkemidler, som eleverne kan/skal finde i teksten. Du kan lytte med ved at klikke på filmen. Den relevante sekvens varer fra minuttal 9:45-12.28.
Retorisk analyse
I uddraget kan jeg umiddelbart finde disse disse retoriske virkemidler: Alliteration, anaphora, metaphor, contrast, tricolon, (varied) repetition, personification, listing. anadiplosis, metonymy.
Der er uden tvivl flere og nogle stykker, jeg ikke kan huske i skrivende stund. Merriam-Webster har lavet en fin gennemgang af 31 almindelige virkemidler med definitioner og eksempler — hvis du lige har brug for at genopfriske et par af begreberne:-)
Læs også: Environmental Literature: A Supermarket Pastoral
Paradise Defended
Teksten kommer her. Læg især mærke til den måde det onde naziregime stilles overfor de almindelige amerikanske drenge, billedsproget og den fantastiske stigende rytme i listen, som ender med ordet: targets. Jeg vedhæfter en printervenlig udgave til dit engelskhold.
Det er også interessant at se på opbygningen af teksten med dens klare fjendebillede og opbygningen som et klassisk epos: Paradise (England/Arcardia) > Paradise threatened (The Nazi War Machine) > Paradise defended (The American Hero/Democracy). Man kan næsten høre den gamle ente Treebeard fra the Lord of the Rings tale om Sarumans forædderi: "There was a time when Saruman would walk in my woods, but now he has a mind of metal and wheels. He no longer cares for growing things."
The wheels of the Memphis Belle leave the soil of England for the 25th time. The friendly soil of England with its ordered farms and rural hamlets. Its country estates surrounded by formal gardens and well-kept parks. The England these Americans knew only from the classics they had to read in school. The England of the towns and cities whose people have defended their island's freedom for over a thousand years.

But today their countryside has changed. Today their island has been converted into a gigantic bomber field. A super aircraft-carrier anchored off the shores of Fortress Europe. With hangars and machine shops, with hundreds of dispersal points, perimeter tracks and concrete runways. This is England in its fifth year of war.

And this is the new battlefront. The air front from which we seek out the enemy. Not his infantry or his artillery. Not his panzer divisions, but the greater menace: the industrial heart of his nation. The foundation on which the Nazi empire and its armies stand. The power behind the German lust for conquest. The steel mills and refineries, shipyards and submarine pens, factories and munitions plants. Pinpoints on the map of Europe which mean rubber, guns, ball bearings, shells, engines, planes, tanks, targets. Targets to be destroyed. And these are the destroyers each with a belly full of bombs and ten men like the crew of the Memphis Belle.

Pilot Captain Robert Morgan, industrial engineer from Ashville, North Carolina. He's flown this ship across the Atlantic. The other pilot Captain Jim Verinis, business administration student at the University of Connecticut. Radio Operator and Gunner, Sergent Bob Hanson, construction worker form Spokane, Washington. Navigator, Captain Chuck Leighton, chemistry student at Ohio Wesleyan. Engineer and Top Turret Gunner, Sergent Harold Loch from Green Bay, Wisconsin – used to be a stevedore. Besides keeping the Belle in order, he covers the sky above. Tail Gunner Sergent John Quinlan of Yonkers, New York – clerked for a carpet company but he quit December 8, 1941. Ball Turret Gunner Sergent Cecil Scott firstman for a rubber company in Raleigh New Jersey.

The Memphis Belle – A Story of a Flying Fortress (1943)
Tasks
Find examples of the following rhetorical devices: Alliteration, anaphora, metaphor, contrast, tricolon, (varied) repetition, personification, listing. anadiplosis, metonymy.
Read the second paragraph out loud. What is the effect of the rising rhythm? How does the speaker use rhetorical devices to underline his points?
Compare the second and third paragraphs. How does the narrator build the contrast between the Nazis and American airmen? What is the effect of the use of contrast?
Need help?
Take a look at this list of 31 common rhetorical devices: https://www.merriam-webster.com/words-at-play/rhetorical-devices-list-examples