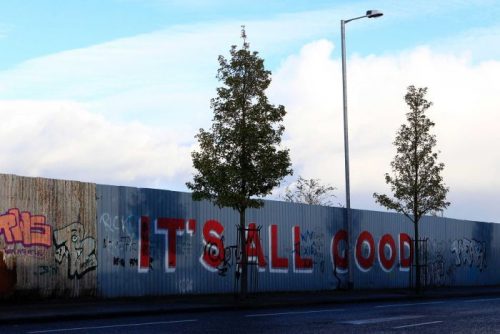 "Jacob Rees-Mogg you're right. You don't need to visit the north of Ireland to understand the border. You need to have lived here". In Hard Border, a short film published by Financial Times, writer Clare Dwyer Hogg and actor Stephen Rea directly challenge the controversial Tory backbencher for his stance on the issue of the border between the two parts of Ireland, which is a major stumbling block in the Brexit negotiations.
Through diverse selections of journalism, documentary, political texts, travel guides, film and literature; this module examines political divisions and possible solutions in Northern Ireland after the Good Friday Agreement. Twenty years of peace has had a hugely positive impact on the political and economic stability in the region. Belfast of 2018 is in many ways a city much like any in Europe with vibrant night life, instagram worthy food markets and the massive new Titanic experience center. Ironically, Peace walls and sectarian murals provide excellent backdrops for tourist selfies.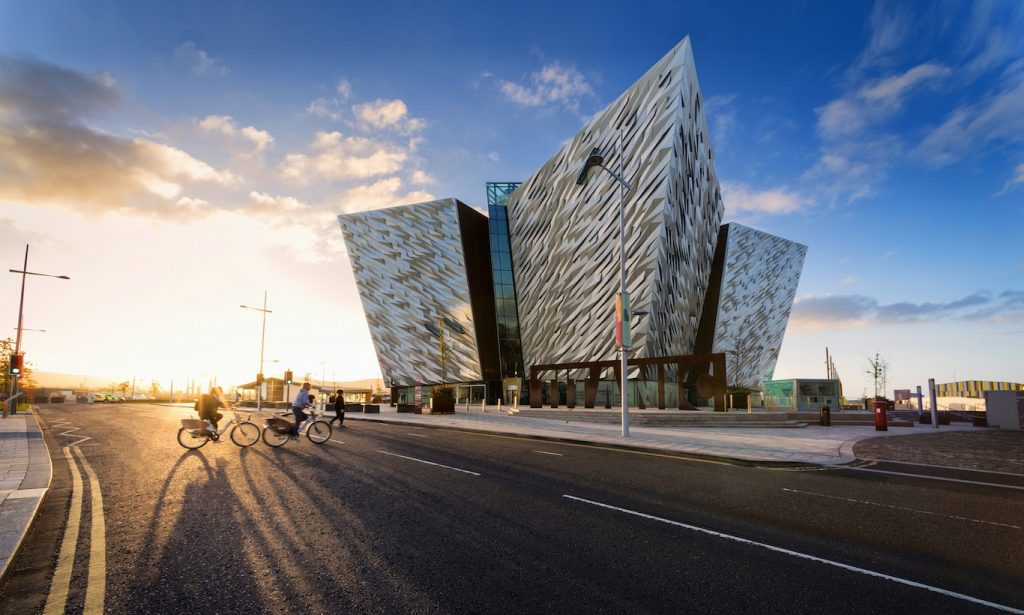 Beneath the surface, however, tensions still run high. Communities remain segregated, only 7% of children go to integrated schools, 2018 has seen the most violent marching season in years, power-sharing at Stormont has been in deadlock for 18 months and a recent poll suggests that more than 80% of NI leave voters regard Brexit as more important than the peace process. Understandably, the prospect of a "hard border" between the Irish Republic and Northern Ireland makes many residents apprehensive about the future.
Issues regularly associated with life in a global market: National identity, political polarization, extremism, xenophobia, lack of trust and social cohesion have always been a significant part of life in Northern Ireland and may very well jeopardize a fragile peace process many expect to take three generations.
Film and Documentary
Clare Dwyer Hogg, "Hard Border" (Short Film): Watch Film
BBC Documentary: "Twelfth": Watch Twelfth
Steve McQueen, Hunger (Drama, 2008): Visit IMDb
DR: "Anne og Anders i Brexitland, Episode 3: Nordirland": Watch episode
The Good Friday Agreement and Peace Process
BBC History: The Good Friday Agreement: Visit site
The Good Friday Agreement (Full text, 1998): Visit site
European Convention on Human Rights: View text
John Hume, Nobel Lecture (Reception of the Nobel Peace Prize 1998): Visit site
Brexit from an Irish Perspective
Tourism in Northern Ireland – Visit Belfast: Visit site
World Affairs – Conversations that matter: "Brexit: Ireland and the English Question" (Interview with Fintan O'Toole, 2018): Watch interview
Wales Governance Centre: Brexit from an Irish perspective – Dáithí O'Ceallaigh Watch talk
BBC News EU Referendum Results: see statistics
BBC The View "Slugger O'Toole, Northern Ireland: Changing Demographics": Watch video
BBC The View "Slugger O'Toole, Changing Demographics: Studio Discussion": Watch Programme
Fintan O'Toole, "The English have placed a bomb under the Irish peace process" (The Guardian, 24 June 2016): View article
Fintan O'Toole, "A Precious Union? The Brexiters don't care about Northern Ireland" (The Guardian, 19 October 2018): View article
Interactive Maps of NI Demographics. Paul Nolan "Two Tribes: A Divided Northern Ireland" (The Irish Times, 1 April 2017): View Article and Maps
England and Social Cohesion
Edelman Trust Barometer 2018 – UK Findings: See findings
Toby Young, "The Writers of the Guardian's 'Brexit Shorts' have swallowed project fear" (The Spectator, 24 June 2017): Read article
Boris Johnson, "Speech at Conservative Annual Conference 2018 (Express 2 October 2018): View full text
Mental Health in Northern Ireland
Now This World: "What's Behind Northern Ireland's Mental Health Crisis: Watch video
The Independent, "Northern Ireland faces a suicide epidemic but continues to be ignored" (June 4 2018): View article
Literary Perspectives
Michael Longley, "Ceasefire" (Poem, 1994) in The Norton Anthology of English Literature: Visit site
Seamus Heaney, "Digging", "Whatever you say say nothing", "The Strand at Lough Beg" and "Casualty" in 100 Poems. Faber and Faber, 2018.
Fiona Barr, "The Wall-Reader" (Short story, 1979) in The Norton Anthology of English Literature: Visit site
Downloads
Peacelines – Introduction (PowerPoint, 2018)
Belfast then and now
Police Service of Northern Ireland: Crime Rates 2017-18
psni-statistical-press-release-2017_18
Ulster Medical Journal, "An Imperfect Peace: Trends in Paramilitary Related Violence 20 Years After the Northern Ireland Ceasefires" (Clinical Paper, 2016)
An Imperfect Peace
Future of England Surveys Slides
FoES 2018 Slides