Skriftlig opgave STX Engelsk A
Af Morten og Mette Mølgaard Pedersen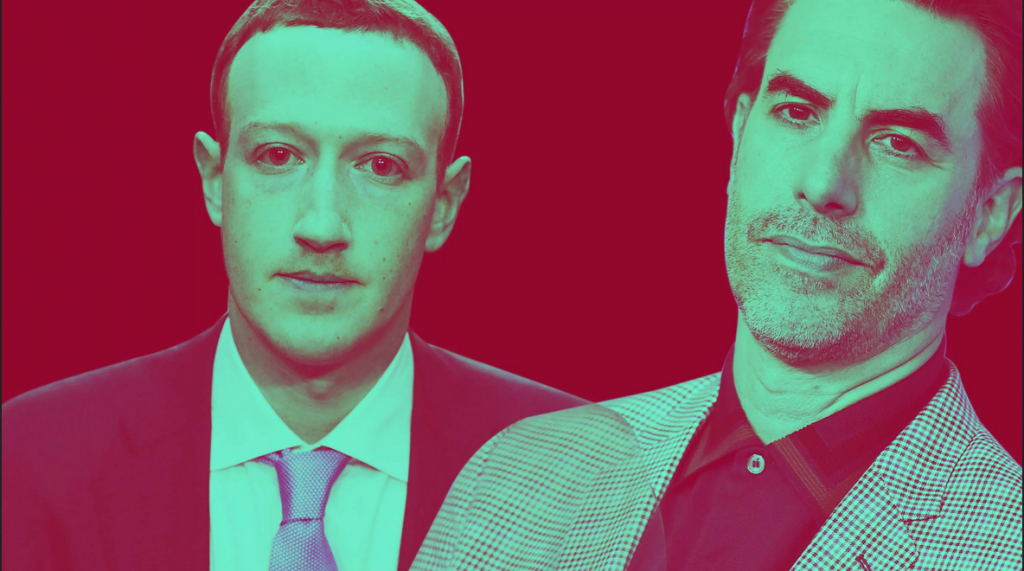 21. november 2019 modtog den britiske komiker Sacha Baron Cohen en pris for International Leadership fra den amerikanske organisation Anti-Defamation League. Skuespilleren – som mest er kendt fra sine kontroversielle satiriske roller, som Ali G, Bruno og Borat Sagdiyev – benyttede lejligheden til at rette et skarpt angreb på Tech-giganterne Twitter, Google, YouTube og Facebook for at have skabt verdens største propaganda-apparat og deres manglende indsats overfor spredning af hate-speech og misinformation.
Cohens tale indholder mange interessante pointer og retoriske greb, som gør den velvalgt til at bruge i engelskundervisningen og ikke mindst træning af de nye skriftlige opgavetyper med integreret grammatisk og stilistisk analyse.
Grammatik og Non-Fiction Analyse
Opgavesættet består af et non-fiction essay med udgangspunkt Sacha Baron Cohens tale og et videoklip af Facebook-direktøren Mark Zuckerbergs tale på Georgetown University i oktober 2019.
Plus et Analytical Essay om Eugenia Colliers novelle "Sweet Potato Pie" (1972) med tilhørende grammatiske opgaver og en lytteøvelse med identifikation af semantiske felter.
Anvendt materiale:
Eugenia Collier, "Sweet Potato Pie". https://webcache.googleusercontent.com/search?q=cache:JqaDvazwjgQJ:https://www.bpi.edu/ourpages/auto/2017/10/14/55813476/Sweet%2520Potato%2520Pie-Collier.pdf+&cd=1&hl=da&ct=clnk&gl=dk&client=safari visited 25 November 2019 (abridged)
Sacha Baron Cohen, "Remarks on Receiving ADL's International Leadership Award", 21 November 2019. Transcript of speech as prepared for delivery*. Taken from: https://www.theguardian.com/technology/2019/nov/22/sacha-baron-cohen-facebook-propaganda visited 23 November 2019
Mark Zuckerberg, "Speech at Georgetown University", 17 October 2019, from minutes 16:30 to 19:36 https://www.youtube.com/watch?v=2MTpd7YOnyU visited 24 November 2019
Transcript of minutes 16:30-19:36 from Mark Zuckerberg, "Speech at Georgetown University"
Podcast, Christopher Intagliata, "Artificial Intelligence Learns to Talk Back to Bigots". Scientific American. 10 October 2019, https://www.scientificamerican.com/podcast/episode/artificial-intelligence-learns-to-talk-back-to-bigots
Kære underviser
Denne skriftlige opgave tager udgangspunkt i opgavetyper og elementer fra de to nye prøvesæt til Engelsk A som er udgivet af undervisningsministeriet i forbindelse med gymnasiereformen 2017.
Vær opmærksom på at de valgte tekster er en smule til den lange side. Derfor vil jeg anbefale at dele opgavesættet op og bruge det til træning af del-elementer – evt. kan det være en god idé at lade eleverne aflevere en dispositionsopgave i grupper, inden de kaster sig over de egentlige essays.
Downloads
WORD-format
PDF-format