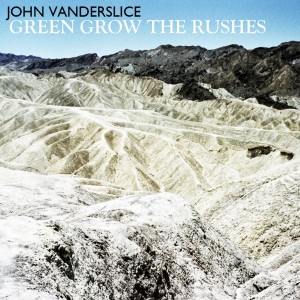 Green Grow the Rushes er det seneste udspil fra den amerikanske multiinstrumentalist og indieproducer John Vanderslice. Den seks numre lange EP kan streames eller downloades ganske gratis fra kunstnerens hjemmeside http://johnvanderslice.com/green-grow-the-rushes.
Musikalsk fortsætter Green Grow the Rushes den kantede, mangefacetterede lyd fra de to seneste album Romanian Names (2009) og Emerald City (2007) kombineret med de karakteristiske narrative tekster fra John Vanderslices hånd.
Men hvor Emerald City er en besk politisk kommentar til krigen i Irak og et amerikansk samfund domineret af frygt og magthavernes interresse i at holde krigen mod terror kørende, er det de mere personlige tragedier blandt ensomme, søgende eksistenser, der skrives og reflekteres over på Green Grow the Rushes.
Overalt eksperimenteres med instrumenter og orkestrering fra den elektronisk (næsten) dansable I'll Never Live Up to You til den skævt organiske Penthouse Window som med hylende pumpeorgel, klarinetter og klaver er blandt albummets stærkeste numre.
Mao og matematik
Lyrisk bevæger Vanderslice sig rundt i et skræmmende, ensomt univers, hvor menneskets relation til omgivelserne konstant afsøges og registreres. På åbningstracket Thule Fog er det individet som funktion af biologi og matematik, der kæmper for at manifestere sig som selvstændigt subjekt: I had to go, I was a prisoner / Of biology and math, like everybody else // Open the window. På I'll Never Live Up to You forsøger fortælleren at bortmane en dominerende afdød far blot for at nå til erkendelsen af, at det er umuligt at undslippe faderens rennomé: When they laid you out, on the metal table / They got the suit right, but they weren't able to erase the glare // You've been dead for 16 years, a myth suspended in amber / Reputation burnished by fear // If they would believe me, I would tell them all the truth about you / I'll never live up to you. Fortællerens problemer med at skaffe sig ørenlyd understreges yderligere i tekstens sammenligning af faderen med formand Mao, den kommunistiske landsfader/diktator, som fortsat kaster sin idealiserede slagskygge over eftertidens Kina.
I modsætning til tidligere udgivelser, hvor Vanderslice ofte spiller alle instrumenter selv, får enspænderen på Green Grow the Rushes hjælp af en række fremragende musikere (f.eks. Ben Goldberg, klarinet og Max Stoffregen, arrangement på Penthouse Window) i skiftende konstellationer. Samspillet med flere mennesker mærkes især i albummets bredde af meget forskellige arrangementer, hvor universet spændes ud mellem de to musikalske poler I'll Never Live Up to You og Penthouse Window.
Trackliste: 1. Thule Fog, 2. I'll Never Live Up To You, 3. Pony Express, 4. Streetlights, 5. Lay Down, 6. Penthouse Window