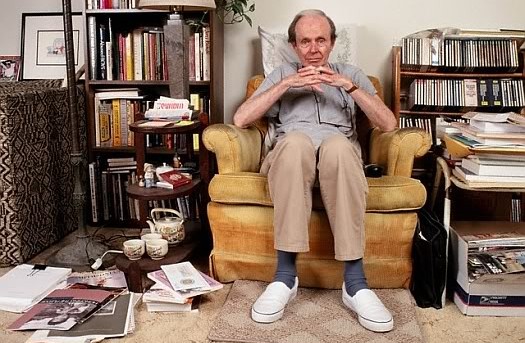 Last Exit to Brooklyn ligger tilbage på hylden med forfængelighedstriber over ryggen. Nu hvor jeg er færdig, har bogen nærmest revet mig midt over.
På den ene side er jeg trist, fuld af afsky, forfærdet, anløben, forvirret, høj, skæv. På den anden er jeg fuld af beundring for Hubert Selby Jrs evne til at tegne karakterer, at fange en sindsstemning eller en tanke i farten og sætte på papiret uden den mindste fornemmelse af medierethed eller fortolkning. Hver eneste karakter har sin egen stemme. Det er smukt. Det er kraftfuldt. En stadigt defilerende række af grufulde sandheder. An urgent tickertape from hell.
At læse Last Exit føles ikke som at læse en bog, men som at blive brutalt placeret midt i det virvar af følelser, misfortåelse, gru, vold, fornedrelse, lyst, had, fortvivlelse, blindhed, latter, sex og medfølelse som er bogens hele indre. Læseren er en voyeur uden mulighed for at gribe ind, selvom det gør forfærdeligt ondt at stå der og se til. Medfølelse er en form for impotens.
Med sin vanlige sans for det rigtige ord har Anthony Burgess beskrevet Last Exit to Brooklyn som "this honest and terrible book". Ærligheden er bogens store styrke og kilden til dens grufulde kraft. Det er i ærligheden Selbys mesterværk skabes, for han udstiller aldrig, han viser, han forklarer, han lader sine karakterer leve og fremstiller dem i hvert sekund, hvert eneste ord, hver eneste tanke som hele, sårbare, virkelige, søgende, patetiske mennesker. På ondt og godt.